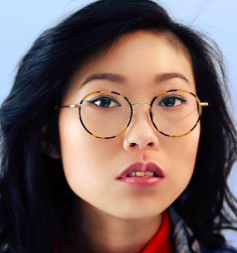 Awkwafina, born Nora Lum, is a native New York rapper, actress, and television personality. She's most recently been featured in films Ocean's 8 and Crazy Rich Asians.
She says, "Growing up as an inter-Asian halfie was more interesting than one would assume. I felt alienated from both my Korean and Chinese sides, which only forced me to cling on to my American-ness. After my mom passed, my grandma stepped in and raised me. I realize now that she was in every sense an extremely non-traditional Asian woman who never talked to me in Chinese. She never pushed the doctor route and even paid for my singing lessons when I got obsessed with Rent in high school. Because of her, I never understood the stereotype of the meek, docile Asian woman — and that defines who I am today.
Embarrassment was one of the first emotions I ever learned, and it marked the beginning to a life of joyful self-deprecation. When my mother died, I adapted humor as a defense mechanism, which I later learned happened to a lot of other comedians. I found comedy in adversity and realized that the only thing I was every good at was making the people around me laugh. I had to teach myself how to produce music, how to rap and how to act, but I never had to teach myself comedy.
I will always use my platform to fight for what's right, and that includes walking out of auditions for one dimensional roles and standing up against ignorance from people who could potentially employ you. All my life, I've surprised people simply by interacting with them. By simply being me, I changed traditional attitudes on what people expect Asian women to be."
Visit Awkwafina at: https://www.awkwafina.com/