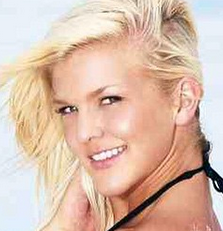 Brooke is the fittest woman in California. She won the 2015 Crossfit California regionals and became one of the top threats to become the "Fittest Woman on Earth".
When asked how she got into Crossfit, Brooke says, "I had been invited to audition for a show in Vegas called Le REVE (similar to Cirque du Soleil) and I needed to learn how to properly climb a rope and do gymnastics movements like Skin the Cat. A friend of mine recommended a gym called Dixie Crossfit. I have been doing Crossfit since that day; it progressively became a bigger part of my life.
I am an outdoors girl and a country girl so some of my favorite activities are boating, ATV's and going to shooting ranges. If I had a good studio close to me, I would be taking dance every chance I had.
In my life, so much good has come from hard work and dedication. Not many people get the opportunity to do what I did in Carson, this July. I still catch myself daydreaming about how it felt to compete at the Games. I set my mind to competing with the best of the best. After two years of hard work, blood, sweat, and many tears, I DID IT!
It's my goal to motivate you to always be courageous and DIFFERENT. Attack life without fear of failure and always remember: "Lions Never Lose Sleep Over The Opinions Of Sheep!""
Visit Brooke at: http://brookeence.com/