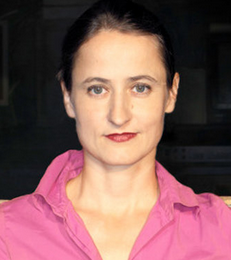 Sasha is one of Europe's best-known and most exciting choreographers. Her choreographies are outstanding as she always surprises with new formations, deep subjects and stunning aesthetic style. But she does not only work with dancers: the dialogue with all other art forms is her special interest. Live music has become an important element in her work. With her production of "Dido & Aeneas" in 2005 she developed a new genre: the choreographic opera.
Sasha was awarded the Cross of the Order of Merit of the Federal Republic of Germany for her work and contribution to the arts. She has created a center for the development of free theater and dance in Berlin in 1996.
Her company performs about 100 times per year, spanning theater and opera, jazz and tango, ballet and martial arts.
Visit Sasha at: http://www.sashawaltz.de/en/