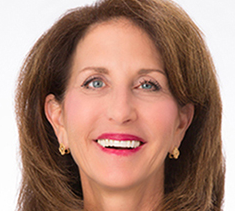 Anne Bakar is the President and CEO of Telecare Corporation. Telecare provides a full range of services and supports to individuals with mental illness and complex needs through contracts with large insurance companies, medical centers, and county and state government. The company has been repeatedly named one of the Best Places to Work in the Greater Bay Area by the San Francisco Business Times.
Anne has led Telecare since the unexpected death of her father in 1987.  She left a seven-year career in investment banking to carry on her family's legacy.  Since her arrival at Telecare, the organization has grown from 400 employees in Northern California to over 2,500+ employees in eight states today.
Anne was inducted into Bay Area Council Business Hall of Fame on Nov. 9, 2017. She was honored by the Iris Alliance, along with Tipper Gore, for her contributions to the mental health care field, and by Girls, Inc. for her mentorship of young women needing professional and personal support.
Visit Anne at: http://www.telecarecorp.com/