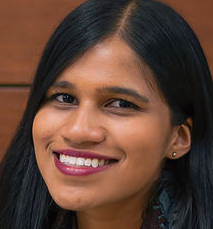 Abirami is an undergraduate student in the Bachelor of Health Sciences program and a Queen Elizabeth Scholar. As the daughter of Sri Lankan immigrants who grew up during the Civil War in the 1980s, Abirami is sensitive to the needs of refugees trying to make their way in a new world. Spurred to make a difference in the lives of fellow immigrants, she started volunteering at the Peel Multicultural Council at age 13.
Abirami founded a youth group now known as Multicultural Youth CAN (MYC). Passionate about the mission, Abi has led the charge of that youth group, implementing programs and events, coordinating volunteer efforts and forging new ground with partner organizations. Maintaining a 4.0 GPA, she goes to school full time, while running two other youth organizations and working part time.
For her leadership, Abi has been awarded the titles of Canada's Top Teen Philanthropist, BresciaLEAD Emerging Award for National Women Leaders, the L'Oreal Paris Women of Worth Award, and the Government of Ontario's Most Outstanding Volunteer.
Visit Abirami at: https://www.multiculturalyouth.org/founder