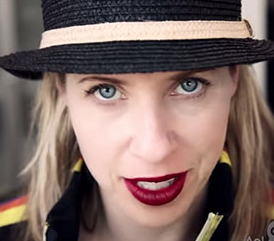 Tiffany Shlain is an American filmmaker, author, and public speaker. She is an internet pioneer and founder of the Webby Awards and the co-founder of the International Academy of Digital Arts and Sciences.
As a speaker, Tiffany has presented at Harvard, NASA, and was the closing speaker for both TEDWomen and TEDMED. Her original series "The Future Starts Here" has received over 40 million views. She is co-founder of Character Day, a global annual event for schools and organizations on the science of character. She is one of Newsweek's "women shaping the 21st Century."
Her new film "50/50: Rethinking the Past, Present & Future of Women + Power" premiered at TEDWomen and Refinery29. In the film, Tiffany explores the 10,000 year history of women + power and asks, where are we really on the greater arc of history of women and power? And what's it going to take to get to a #5050 world — not just politics and board rooms, but truly shifting the gender balance to be better for everyone.
Visit Tiffany at: http://www.letitripple.org/